Some men might experience gynecomastia, a condition where the breast tissue enlarges. In such cases,  gynecomastia (male breast reduction) surgery might be an option. This procedure focuses on adjusting the chest contours according to personal objectives and medical recommendations.
Dr. Tim Papadopoulos leads our Sydney clinic and offers male breast reduction procedures to individuals who feel this might be the right course for them. It's essential to remember that the decision to undergo any surgery is a personal one and should not be influenced by societal norms or expectations. It's one of the ways people choose to manage changes in their bodies, and we believe you should consider all available options, including changes in lifestyle habits, your mindset around your body, and non-surgical options to manage these changes.
Our team is dedicated to providing a professional, respectful, and patient-focused approach, helping you make an informed decision that aligns with your personal objectives and overall wellbeing.
Gynecomastia (male breast reduction) surgery is a procedure that can address gynecomastia, a condition where the breast tissue enlarges in men.
The surgery can involve lipoplasty (liposuction), excision (removal of tissue), or a combination of both, depending on the individual's situation and objectives.
The procedure length varies based on the extent of tissue removal and individual circumstances.
It's suitable for individuals who are at a stable weight, in good health, and have realistic expectations about the results.
Post-surgery, patients might need to wear a compression garment to support the healing process and help achieve the best possible results.
Recovery times can vary widely and depend on the individual's health, the extent of the surgery, and other factors.
Please note that these facts are general in nature, and specific details may vary based on individual circumstances. We encourage patients to have a detailed consultation with Dr. Tim to fully understand the procedure.
What can I expect during my consultation process with Dr. Tim for gynecomastia (male breast reduction) surgery?
Every patient considering gynecomastia surgery will have at least two pre-operative consultations. Your initial consultation will involve a comprehensive discussion with Dr. Tim or another registered health practitioner from his team to understand your expectations and assess your overall health. Dr. Tim is dedicated to open and transparent communication. He will explain the gynecomastia surgery procedure in detail, discuss potential risks, and outline the recovery process. At least one of your consultations will be a face-to-face meeting with Dr. Tim. The rest can be either in-person or via a video call. These consultations provide an opportunity to discuss your desired outcomes and receive professional advice from Dr. Tim based on his extensive experience. His aim is to arm you with all the knowledge necessary to make an informed decision about whether gynecomastia surgery is the right choice for you.
Do I need a referral to schedule a consultation?
Yes, all our patients require a referral to schedule a cosmetic consultation. Ideally, this should come from your regular general practitioner. However, if that's not possible, any other general practitioner or specialist medical practitioner will be suitable.
Does Dr. Tim incorporate psychological screening as part of the pre-surgery process?
Absolutely. Dr. Tim places a great emphasis on the psychological well-being of his patients. He believes a sound mind is vital in ensuring that you are making this decision for the right reasons. A mandatory psychological assessment will be carried out by Dr. Tim or a registered health practitioner from his team. This includes discussing your motivations for the procedure and any concerns you may have. Our primary goal is your well-being. This means that there may be instances where we might advise against cosmetic surgery if it appears not to be in your best interest. We'll discuss this in detail with you and offer alternative suggestions for care and support.
Is there a cooling-off period before my surgery?
Yes, we require a cooling-off period of at least seven days after your two consultations and the signing of consent forms. This ensures that you're completely confident in your decision. This period provides some space and time to contemplate your decision and ask any more questions that might arise.
Are Dr. Tim's facilities accredited by an Australian Commission on Safety and Quality in Health Care (ACSQHC) approved agency?
Indeed, all surgeries performed by Dr. Tim take place in a fully equipped facility, accredited by an agency recognised by the Australian Commission on Safety and Quality in Health Care (ACSQHC). We are fully prepared and staffed to manage any potential complications or emergencies, ensuring every patient receives the highest quality care in a safe and secure environment.
What are the possible complications associated with gynecomastia surgery?
While complications are rare and Dr. Tim takes every precaution to minimise risks, potential complications can include infection, bleeding, poor healing of incisions, changes in nipple or breast sensation, and asymmetry in chest contour. For more information, please see the Risks of Gynecomastia Surgery section above. Dr. Tim will discuss these in more detail during your consultation.
Will my health insurance cover the cost of the surgery?
Gynecomastia surgery may be partly covered by some health insurance plans if the procedure is performed to relieve medical symptoms. However, coverage can vary greatly between different insurers and policies. We strongly recommend checking with your insurance company to understand your coverage better.
How long will it take for me to see the final results of my gynecomastia surgery?
While you will notice an immediate change in the shape of your chest after surgery, it may take several months for your body to fully adjust and for all swelling to resolve. Remember, every patient's experience is different, and results can vary.
Can gynecomastia return after surgery?
While the glandular tissue that contributes to gynecomastia is removed during surgery and will not grow back, significant weight gain or the use of certain drugs can cause fat to accumulate in the chest area, leading to the return of a breast-like appearance. It's important to maintain a healthy lifestyle and avoid triggers to maintain the results of your surgery.
Risks of Gynecomastia surgery
Gynecomastia surgery is generally safe when performed by a certified and experienced plastic surgeon like Dr. Tim. However, as with any surgical procedure, it does carry some potential risks. It's crucial that patients are fully aware of these possible complications, which can include:
Adverse Reaction to Anaesthesia: Like all procedures requiring anaesthesia, there's a risk of complications such as allergic reactions and problems with breathing.
Bleeding (Hematoma): Although rare, excessive bleeding during or after surgery can occur. In some cases, another surgery may be required to control the bleeding or to remove a blood collection (hematoma).
Infection: Any surgical procedure carries the risk of infection. While rare, if an infection does occur, it's typically within a few days of surgery. Infections are usually treated with antibiotics, but in severe cases, additional surgery may be required.
Scarring: Incision lines from gynecomastia surgery are permanent but are typically placed in areas that can be easily concealed. Scarring can be more pronounced in some patients due to individual healing characteristics.
Changes in Skin Sensation: After surgery, you may experience numbness or other changes in skin sensation around the chest area. This usually improves within a few months, but in some cases, it can be permanent.
Asymmetry in Chest Contour or Nipple Position: While Dr Tim takes every surgery very seriously, and makes every effort to create a symmetrical appearance, sometimes variations can occur due to differences in healing or the extent of the gynecomastia prior to surgery.
Poor Wound Healing or Skin Loss: In rare cases, the skin on or around the chest area may not heal normally and may die off. This is more common in smokers or those with pre-existing health conditions like diabetes.
Seroma: Fluid may accumulate under the skin following surgery, creating a condition known as seroma. If this occurs, further treatment may be required to drain the fluid.
Dr. Tim will discuss these potential risks with you during your consultation, and you should ask if there are any additional risks or complications that may apply to you. It's important to follow all pre-operative and post-operative instructions provided by Dr. Tim to minimise the likelihood of these risks.
Recovery from gynecomastia surgery
The recovery period after gynecomastia surgery can vary depending on individual circumstances and the specific techniques used during the procedure. Dr. Tim's expertise and personalised care aim to provide comprehensive guidance to each patient during the post-operative period. Here is a general timeline and what to expect during your recovery:
Immediate Post-Surgery
After surgery, you will be taken to a recovery area to be closely monitored. You may feel groggy from the anaesthesia and experience discomfort in the chest area. A friend or family member will need to drive you home and ideally stay with you for the first 24 hours.
First Few Days
Expect to feel some pain, swelling, and bruising. The pain can be effectively managed with prescribed medications. Dr. Tim will provide you with specific post-operative care instructions, including how to care for your surgical site, medications to apply or take orally to aid healing and reduce the risk of infection, and when to follow up with Dr. Tim.
First Few Weeks
Over the next two to four weeks, your chest will continue to heal, and you can gradually resume normal activities as advised by Dr. Tim. You will be asked to wear a compression garment around your chest to help reduce swelling and support your new chest contour.
After One Month
Most patients can return to normal activities and gentle exercise after one month. However, you should continue to avoid strenuous activities or heavy lifting until given clearance by Dr. Tim.
Long-Term
Over the next several months, your chest will settle into its new shape. Any residual swelling will resolve, and incision lines will fade, becoming less noticeable over time.
Throughout your recovery period, it's crucial to attend all follow-up appointments with Dr. Tim, who will monitor your healing progress, provide advice, and answer any questions you may have. Remember that everyone's body is different, and individual results can vary.
This content is suitable for an 18+/adult audience only
These photos are of consented patients of this clinic/medical practitioner and have not been altered or digitally enhanced.
Outcomes shown are only relevant for this patient and do not necessarily reflect the results other patients may experience, as results may vary due to many factors including the individual's genetics, diet and exercise.
Click on the images below to enlarge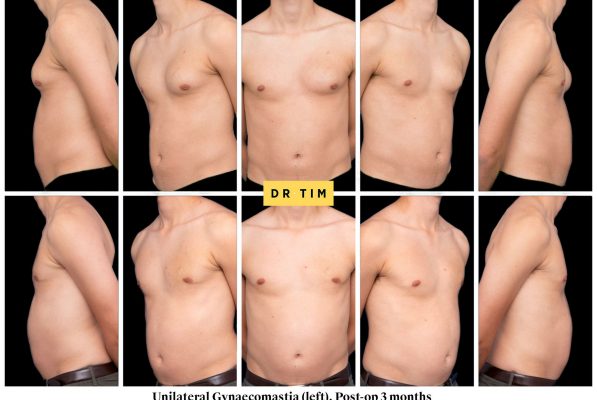 About Dr. Tim Papadopoulos
Board Certified Plastic Surgeon