Changes in our bodies can occur for many reasons, including lifestyle habits, genetics, and natural aging. These natural processes can sometimes result in an accumulation of fat in specific areas, such as the abdomen, hips, buttocks, thighs, knees, upper arms, chin, cheeks, and neck. For some, Lipoplasty (Liposuction) might be a suitable option. It's a procedure focused on addressing the distribution of fat in your body according to your personal expectations and medical recommendations. The procedure can assist with fat that is difficult to manage with diet and exercise alone.
Lead by specialist Plastic Surgeon, Dr. Tim Papadopoulos at our Sydney clinic, we offer Lipoplasty procedures to both men and women. 
The decision to undergo Lipoplasty is a personal one and should not be seen as a societal expectation or norm. It is one of the ways people choose to manage changes in their bodies, and we belive that you should consider all available options, including changes in lifestyle habits, your mindset around your body, as well as non-surgical options to manage these changes.
Our team is committed to providing a professional, respectful, and patient-focused approach to help you make an informed decision that aligns with your personal expectations and overall wellbeing.  
Lipoplasty (Liposuction) is a procedure focused on addressing the distribution of fat in specific body areas such as the abdomen, hips, buttocks, thighs, knees, upper arms, chin, cheeks, and neck.
The procedure can be performed under general or local anaesthesia, depending on the number of areas being addressed and the amount of fat to be removed.
The method involves the use of a cannula and negative pressure to suction out fat.
The surgery duration can vary based on the extent of fat removal and the number of areas treated.
Please note that these facts are general in nature, and specific details may vary based on individual circumstances. We encourage patients to have a detailed consultation with Dr. Tim to understand the procedure fully.
What can I expect during my consultation process with Dr. Tim for lipoplasty (liposuction)?
Our protocol includes at least two pre-operative consultations. This begins with a comprehensive consultation with Dr. Tim or another registered health practitioner from his team. This initial meeting allows us to understand your aspirations and assess your overall health. Dr. Tim values clear and open communication. He will provide an in-depth explanation of the lipoplasty (liposuction) procedure, covering what to expect, potential risks, and the recovery process. At least one of your consultations will be a face-to-face meeting with Dr. Tim. The remaining consultations can take place either in person or via video call. Each consultation allows you to discuss your desired results and receive professional advice based on Dr. Tim's extensive experience. Dr. Tim's aim is to provide you with enough information and knowledge to make a fully informed decision about whether lipoplasty (liposuction) is the right choice for you.
Do I need a referral to schedule a consultation?
Yes, we require all our patients to have a referral to schedule a consultation. It's preferable if this referral comes from your regular general practitioner. However, if that's not possible, a referral from any other general practitioner or specialist medical practitioner is acceptable.
Is psychological screening part of the pre-surgery process?
Absolutely. Dr. Tim and his team place a strong emphasis on the psychological well-being of all patients. We believe that a healthy mind is essential to making this decision for the right reasons. Before any cosmetic surgery is planned, Dr. Tim or a registered health practitioner from his team will carry out a mandatory psychological assessment. This will involve a discussion about your motivations for the procedure and an open conversation about your surgical history. Please remember that our primary goal is your well-being. This means that there may be instances where we might advise against cosmetic surgery if it appears not to be in your best interest. In these cases, we'll discuss this in detail with you and provide alternative suggestions for care and support.
Does Dr. Tim's practice requiree a cooling-off period before surgery?
To ensure you're completely comfortable with your decision, we require a cooling-off period of at least seven days after your two consultations and signing of the consent forms. This allows you the necessary time to contemplate your decision and ask any further questions that might arise.
Are the facilities used by Dr. Tim accredited by an Australian Commission on Safety and Quality in Health Care (ACSQHC) approved agency?
Yes, any surgery performed under Dr. Tim will take place in a purpose-built facility that has received accreditation from an Australian Commission on Safety and Quality in Health Care (ACSQHC) approved agency.
What complications can occur with lipoplasty (liposuction)?
While complications are rare and every precaution is taken to reduce risks, potential complications can include infection, bleeding, poor healing of incisions, and changes in skin sensation. More information can be found in the Risks of Lipoplasty (Liposuction) section above.
Will my health insurance cover the cost of the surgery?
Lipoplasty is primarily considered an elective cosmetic procedure, which means that it may only be partly covered or not covered at all by most insurance policies. However, in certain cases where there is a medical necessity, insurance companies may provide coverage. We recommend contacting your insurance provider directly tocheck your specific coverage details and requirements.
What type of anesthesia is used during lipoplasty (liposuction)?
Lipoplasty (liposuction) is generally performed under general anesthesia, meaning you'll be asleep during the procedure.
Will there be visible scarring after lipoplasty (liposuction)?
Scarring is expected after lipoplasty (liposuction), but the extent of visible scarring varies. Dr. Tim uses techniques aimed at minimising visible scarring.
How long do the results of lipoplasty (liposuction) last?
The results of lipoplasty (liposuction) are typically long-lasting, especially if you maintain a stable weight after the surgery. However, natural aging and significant weight fluctuations can influence the results. Dr. Tim will provide guidance on how to best preserve the results based on your individual circumstances.
Risks of Lipoplasty (Liposuction)
Like any surgical procedure, lipoplasty (liposuction) comes with its potential risks and complications. Dr. Tim believes in transparency and ensures that patients are well-informed about all possible outcomes. Here are a few risks associated with this surgery:
Bleeding: As with any surgery, there's a risk of bleeding during and after the procedure. Dr. Tim takes every precaution to minimise this risk.
Infection: While rare, infections can occur after any surgical procedure. Should an infection occur, it's typically treatable with antibiotics.
Scarring: Liposuction incisions are small, but there can still be some degree of scarring. However, Dr. Tim's surgical techniques are designed to reduce visible scarring, and any remaining scars often fade over time.
Changes in Skin Sensation: You may experience temporary changes in skin sensation around the surgical site, including numbness or tingling. This usually resolves over time.
Irregular Contour or Rippling of the Skin: While Dr. Tim strives for a smooth contour following liposuction, there is a risk with any liposuction that some patients may experience irregularities in the skin's surface. Factors such as skin elasticity, the patient's healing response, and the amount of fat removed can contribute to this outcome.
Seroma: This is a condition where fluid accumulates under the skin following surgery. If this happens, it may need to be drained.
Adverse Reaction to Anaesthesia: With any surgery where you go under general anaesthetic, there is a risk of adverse reaction to anaesthesia. The anaesthetist will discuss this with you in detail prior to your procedure.
It's important to discuss these risks thoroughly with Dr. Tim during your consultation. His extensive experience and commitment to patient safety help to minimise these risks and promote an optimal surgical outcome.
Recovery from lipoplasty (liposuction)
Recovering from lipoplasty, also known as liposuction, is a step-by-step process. Dr. Tim's expertise and personalised care aim to provide comprehensive guidance to each patient during the post-operative period. Here is a typical timeline of what to expect during recovery:
Immediate Post-Procedure: The lipoplasty procedure usually lasts between 1 to 4 hours, depending on the extent of the surgery. Upon completion, Dr. Tim will provide you with detailed instructions for post-operative care.
Patients typically return home the same day, unless the surgery is more extensive. It is recommended to have someone available to drive you home and assist you during the initial recovery period.
First Few Days: After the surgery, expect to experience some discomfort, bruising, and swelling. Dr. Tim will prescribe medication to help manage any pain. In addition, he may advise you to wear a compression garment to aid in the reduction of swelling and to provide support.
First Week: Most patients can resume work and light activities within a week, depending on their job and the extent of the surgery. Physical exertion should be avoided during this period, but light movements, such as walking, can be beneficial for circulation and can aid the healing process.
Two to Three Weeks: By this time, the initial swelling and bruising should have begun to subside. While you may start noticing some changes in the treated area, the final results will not be immediately apparent as your body requires time to adapt and heal.
Six Weeks: After six weeks, the majority of swelling should have resolved, making the results of the lipoplasty more visible. Dr. Tim may recommend that you continue to wear the compression garment to help achieve the best results.
Three to Six Months: This period typically marks a significant milestone in your recovery process, as the final results of your lipoplasty become more evident. 
One Year: At this point, full healing has typically occurred, allowing you to fully appreciate the changes from the lipoplasty. However, it's crucial to understand that individual recovery timelines can vary.
Maintaining a stable weight is important for maintaining the changes made during lipoplasty. Weight fluctuations can impact the results, so maintaining a healthy diet and regular exercise routine is advised for long-term success. Follow-up appointments with Dr. Tim will help monitor your progress and answer any queries you might have during the recovery process.
This content is suitable for an 18+/adult audience only
These photos are of consented patients of this clinic/medical practitioner and have not been altered or digitally enhanced.
Outcomes shown are only relevant for this patient and do not necessarily reflect the results other patients may experience, as results may vary due to many factors including the individual's genetics, diet and exercise.
Click on the images below to enlarge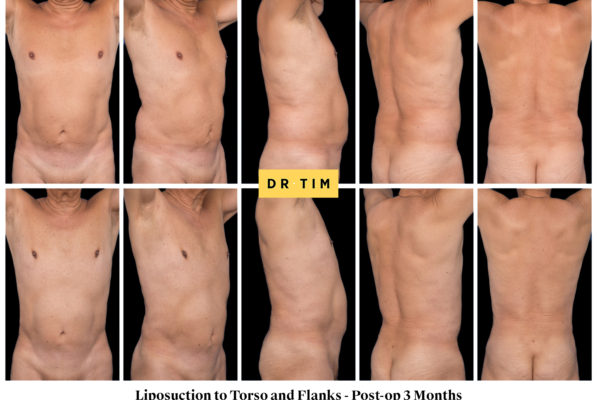 About Dr. Tim Papadopoulos
Board Certified Plastic Surgeon